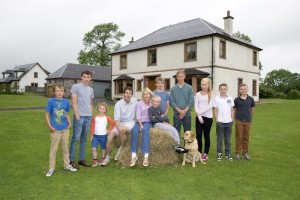 A FAMILY of 11 who bought a derelict farm in the Scottish glens from Britain's oldest man are giving something back to the community – by hosting a wind turbine owned entirely by a people's cooperative on their land.
Diane and Alastair Ramsay are hoping the turbine will be spinning by the end of the year on Wester Derry Farm at Kilry, near Alyth, Perthshire, which they share with their nine children.
Local primary schools Glen Isla and Alyth will share the community benefit from money raised by the electricity generated by the turbine – receiving around £2000 and £2500 annually, at a rate around four times that paid by large wind developers.
"This is a project developed by the community for the community, " said Diane Ramsay. "The schools are really pressed for money for things like trips and this will allow them to plan ahead with certainty because they will have a steady income for 20 years. The idea of a wind turbine owned by a co-op really appealed to me. We are privileged to live at Wester Derry and this offers the chance to give something back"
Wester Derry is Sharenergy's second co-operative wind project in Scotland, having already supported a turbine now spinning in Dingwall, near Inverness.
The Ramsays bought the farm in 1995 from David Henderson, who died aged 109 in 1998. Mr Henderson was born on the farm and his family had farmed Wester Derry for more than a century.
The Ramsays have already brought a disused underground mill wheel and mill lade back into use as a micro hydro-electric scheme, which powers a holiday home at Wester Derry. The family found Victorian graffiti, detailing daily life and events on the farm, on the huge stone mill wheel.
"It was absolutely incredible, a phenomenal structure built underground because there was no water course above ground. It was derelict but we wanted to restore it because it was an astonishing feat of ingenuity," said Mrs Ramsay, 46. Her husband, 49, has also installed a geothermal heat pump, to take heat from the earth, on the farm, while the family encourages wildlife habitats and has a green tourism award for the holiday home.
Mrs Ramsay says it was very important to the couple to nurture Wester Derry for future generations.
"We are only here for a short time in the history of this land and we are very privileged," said Mrs Ramsay. "Wester Derry hadn't been lived in for years and years but Mr Henderson couldn't bring himself to sell. We saw the farm when we walked past it one day and I wrote asking if he ever thought of selling, would he let us know. He sent 'the young lad' – his nephew, who was 89 – to see us and he agreed to sell."
The Ramsays' labour of love in bringing the farm back to life – "saving everything we could and adding sympathetic new buildings" – ended in 2007, when they moved in with their eight children: Louisa, now 19; Alexander, 18; Cameron, 17; Robbie, 16; Oliver, 14; Christian, 12; James, 10; and eight-year-old William. The youngest of the nine – Juliet, now five – was born after they moved into Wester Derry.
Mrs Ramsay said the idea for the wind turbine (a single 250kW model) came from the windy hill above the farm. "It was so windy that when we went for picnics, not just the cling film but the sandwiches would blow away," she said.
Mrs Ramsay acknowledges that there is some opposition to renewable energy and that people can feel threatened by large-scale wind farms.
"It's an emotive subject but opposition is often about scale and we shouldn't throw the baby out with the bath water. A turbine owned by a coop ticks all the boxes – it is producing green energy but the community is in control and can see money coming back into the community directly thanks to the turbine, and to local investors via the coop model. Some people locally who are not keen on wind farms have looked at this model and realised it's different.
"The co-op model – which is one member, one vote, irrespective if how much you invest – worked for us because we could not have funded it all ourselves. Local people are the priority in attracting investors. We will get a return but our main motivation is to use our land and contribute to the community by harnessing a natural resource."
Niall Stuart, Chief Executive of Scottish Renewables, said: "This kind of project demonstrates very clearly that communities are taking their energy future into their own hands. Wind turbines can be a great asset to a local community – by generating income as well as power. Getting local people to invest completes the circle and ensures that profits are also indirectly put back into the community via member interest payments."
Jon Halle of Sharenergy said: "This is the future of onshore wind generation. Scotland is moving towards 50 per cent renewables generation but much of the money is going overseas to the parent companies of the businesses building wind farms in Scotland," said Mr Halle. "In our projects, no banks or big energy companies are involved – just normal people coming together for mutual benefit. The co-ops have a strong local focus."