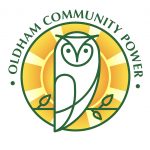 Oldham Community Power 2nd share offer now open – the new share offer was launched on 1st April. OCP successfully installed 220 kW of panels on five primary schools and one community centre last Autumn and these are are all now generating green electricity.
Because of the short timecales to get the installations registered before the Feed in Deadline last October, OCP took up an offer of a short term loan from Oldham Metropolitan Borough Council to add to the £50,000 raised in the first share offer to fund these installations. This new share offer is to raise money so that OCP can repay this loan to the council and give an opportunity to more people to become members of this community energy project.
An innovation in our project (developed with the help of a grant from the Greater Manchester Community Energy Innovation Fund) is that you can pay for shares in installments starting as low as £10 per month for 10 months, so you do not have to pay all at one time. Please see our share offer document for more information.
By buying shares, you will become a member of OCP and will be helping schools and community buildings in Oldham to reduce their carbon footprint. In addition, you will get interest, and your capital back, over the course of the next 20 years. If the panels continue to perform as expected, members should see a long term return of about 4% on their shares. If the panels do better than expected, any profits in excess of a 4% return to members will be put into a community fund. The schools and community buildings benefit by being able to buy cheap electricity from OCP.
OCP is keen to expand and is already looking at others sites in Oldham where panels could be installed – but future installations would only be added as long as this does not reduce the amount of interest that members would expect to receive. If more sites are found, they would be funded by selling more community shares.
Please see our share offer document or visit our webpage at oldhamcommunitypower.org.uk.